---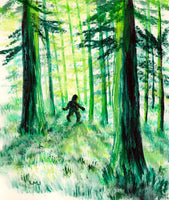 The rising sun streams light through the trees as Bigfoot strolls through a green Oregon woodland. This landscape is an original acrylic painting on cardstock.
Artist: Laura Milnor Iverson
Year Painted: 2022
Size: 6″ x 8″
Click Here to purchase prints and other products, such as apparel, mugs, totebags and cards (opens in a new window).